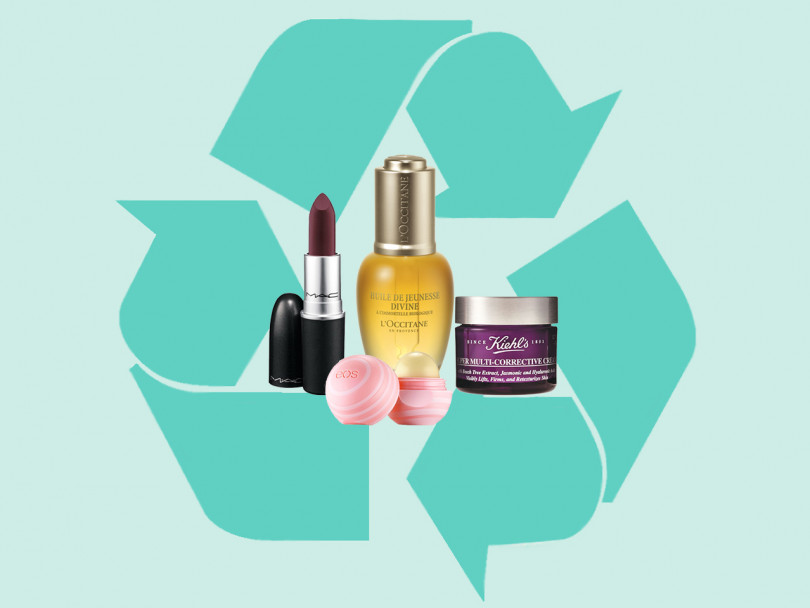 The global cosmetics industry produces 120 billion units of packaging every year,including the cardboard that envelops perfumes, serums, and moisturizers that contributes to the loss of 18 million acres of forest each year.
And while it isn't necessarily the easiest to recycle empty beauty and skincare packaging, it is very much necessary for a sustainable future.
While shopping sustainable beauty is the ultimate goal, it's still essential to recycle all empty beauty containers to avoid waste. In fact, 50% of people don't even try to recycle their empty containers as it is deemed "inconvenient".
The so-called incommodity contributes to the 400 million tons of plastic waste generated per year.
But here's the thing: Beauty product packaging is especially confusing and tricky to recycle (think: mirrored glass, cardboard sleeves, paper inserts, etc).
First and foremost, you should always follow your local recycling laws to ensure that you are following the rules. You can also use resources like Recycle Coach,How2Recycle, and EARTH911 to check what recyclables are accepted.
Some eco-conscious brands also offer internal recycling programs within their own facilities.
TerraCycle, a private recycling business, actually works with Nordstrom for BEAUTYCYCLE, a free program that invites consumers to drop off their beauty and skincare product packaging (regardless of brand) at in-store collection points for recycling, including items that are typically unrecyclable. Other brands that have individual in-house recycling include Garnier, Burt's Bees, eos, Herbal Essences, L'Occitane, Josie Maran, and Paula's Choice, to name a few. These brands generally work with programs like TerraCycle to properly process waste.
Small products can actually halt the recycling process and therefore aren't widely accepted at recycling plants. This means anything under 2 inches, think: all travel and portable beauty products. Additionally, products with dark packaging also cannot be recycled as they can't be identified by MRF machines. Also unrecyclable: products that contain mirrors, magnets, makeup brushes, sheet masks and packets, and squeezable tubes.
The ideal goal is to use less packaging, hence producing less waste. Many brands like Brazilian NATURA, French Diptyque, and Los Angeles-based Bathing Culture offer refillable beauty products. This means that you will be reusing the packaging several times over its intended lifetime, thus keeping it away from the landfill. Over 90 percent of an average product's environmental impact comes from extracting and refining the raw materials from which it is made.
Package-free haircare
Shampoos and conditioners typically come in plastic bottles, which can be a nightmare for anyone looking to cut plastic waste out of their bathroom.
Ditch the plastic and go naked with the solid shampoo bars and conditioners. Making haircare solid eliminates the need for plastic bottles, reducing the environmental impact enormously and saving tons of plastic from ever being produced or entering landfills. They're easy to travel with because they are small and won't spill in your bag, and they're very easy to use.
Animal cruelty-free shampoo bars that last up to 80 washes.
The zero-waste shop Package Free also has multiple options for package-free haircare. And if you're not a fan of bar soaps for hair, the shop also carries refillable conditioners (packaged in aluminum) that are vegan and chemical free. Opt out of the pump and go for the cap for a fully plastic-free conditioner.
To Learn more about recycling click here: https://www.seattle.gov/utilities/your-services/collection-and-disposal/recycling/recycle-right
https://www.epa.gov/circulareconomy/us-recycling-system#:~:text=Reduces%20the%20amount%20of%20waste,and%20process%20new%20raw%20materials.
Students for Enviromental Action (SEA) invites you to be an environmental hero! Bring clean styrofoam, packing peanuts in bags or boxes, bubble wrap and plastic film to be recycled–for FREE!
May 31 from 10am-2pm in parking lot F
Here is a list of items accepted: https://docs.google.com/document/d/1d7sVx0BNARgqt_Tj0aOTvitlW7hiTihpoy4ecG_fMw4/edit?usp=sharing
More information about event :https://www.everettcc.edu/calendar/2023/05/styrofoam-recycling-event
Learn more about EvCC Sustainability! www.everettcc.edu/green
Mariya Zelenskyy – Media and Outreach Coordinator sustainability@everettcc.edu