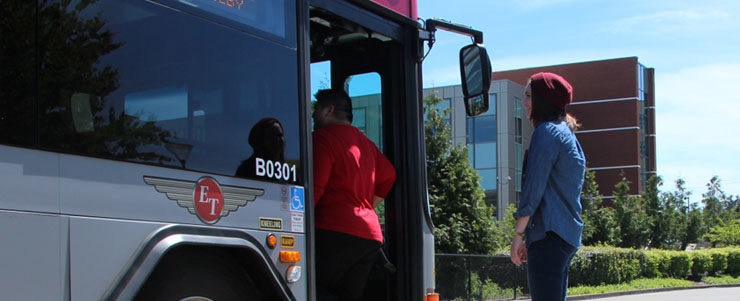 New year, new projects. That's how we look at things here in the EvCC Sustainability program! One of the many new projects underway for this year is a pilot program to incentivize students and employees to use public transportation. Island Transit has reinstated a once discontinued route, the Everett Connector, which runs a single bus from Terrys Corner Park and Ride on Camano Island to the Everett Station, with a stop at Tower and Broadway, right in front of EvCC.
A report put together by EvCC student and Sustainability Staff, Max Tinsley, determined that this route could potentially cut commute time in half for students who live in the North County region, comprised of Stanwood, Camano Island, and the unincorporated areas north of Arlington. The report also outlined that approximately 10% of annual enrollment at EvCC are students living in the North County area.
Similar to the existing ORCA program, students can purchase a buss pass for Island Transit route 412, the Everett Connector, for $45.00 in the Cashiers Office, in Parks Student Union. This is being run as a pilot program for Fall Quarter, with a limited number of passes available to find out the demand for such a program. The passes are valid for the entire quarter, rather than just a month, as they would be if purchased from Island Transit directly.
This project is not only a benefit to the environment, but it can also help to reduce traffic and parking congestion. The outcome of Max Tinsleys effort is also a reminder that one person has the power to bring about significant change and leave a lasting impact on their community, if only they stay engaged and involved in the public process.